Gobi Partners onboards Malaysian startups Durioo+, Lapasar, Paywatch and pitchIN to the Gobi Superseed II Fund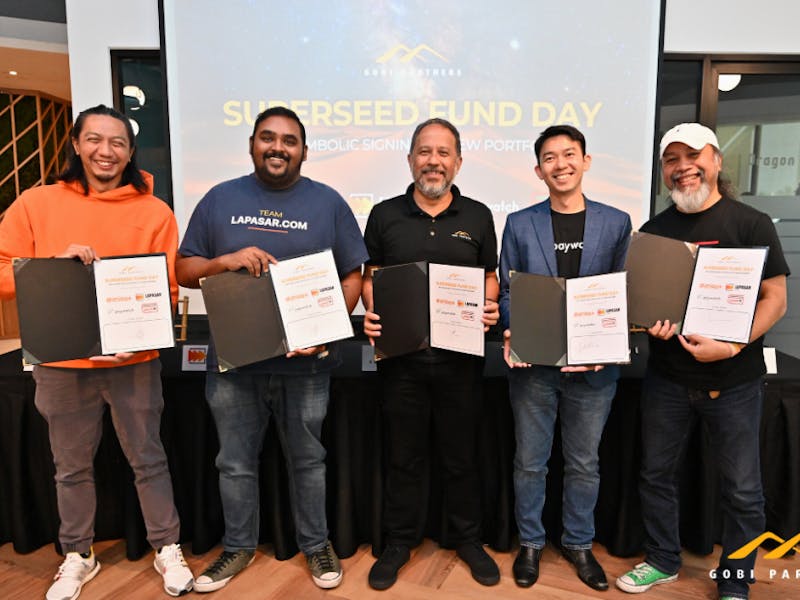 KUALA LUMPUR, 2 February 2023: Gobi Partners, the most interconnected Pan-Asian venture capital (VC) firm with US$1.5 billion (RM6.5 billion) in assets under management has onboarded four more promising Malaysian startups to its Gobi Superseed II Fund (Gobi SSII Fund).
The four firms being onboarded are Islamic-themed streaming service Durioo+, e-commerce marketplace Lapasar, earned wage access provider Paywatch and online investing platform pitchIN.
All four companies have been identified as leaders in their respective fields and have the capability to scale up and bring sizeable returns to the Malaysian economy.
Supporting Malaysian Startups

Gobi Managing Partner (Malaysia), Jamaludin Bujang is excited to welcome the new portfolios to the Gobi family and to also help guide them through the expected economic headwinds this year.
"We are continuing our efforts to help spur the growth of entrepreneurs, especially startups and small and medium enterprises (SMEs), in the local ecosystem during a challenging time for the Malaysian economy, as evidenced by our latest investment into these four companies under the Gobi SSII Fund," he said.
"The tough situations faced by startups do in a way, act as a natural filter for us to choose the best companies. Because of this, we were able to identify and then invest in Durioo+, Lapasar, Paywatch and pitchIN who have not only successfully adjusted themselves to remain relevant to their markets but have also thrived and strengthened their respective positions."
Durioo+

Islamic-themed streaming service Durioo+, which is subscription-based and accessible on smart devices and appliances, was launched in February 2022 to showcase high-quality Islamic and kid-friendly content. The streaming platform showcases Durioo+ Originals, high-quality Islamic cartoons and kid-friendly content from around the world. In 10 months, the platform has gained over 20,000 subscribed users and is airing more than 1,600 episodes of content thus far.
Harnessing more than a decade's worth of experience leading Digital Durian, the publisher of Didi & Friends and Omar & Hana, Durioo+ Founder, Sinan Ismail wants to build a platform that produces content for Muslim children and educational mobile games that teach Islamic values.
"There are over 400 million Muslim children around the world, but there are too few high-quality Islamic animations and games, that children love to watch and play. What we want to do is instil good values and virtues through the lens of a Muslim," he said.
In the next five years, the company plan is to enter the global market – specifically the United States, the United Kingdom, MENA, Indonesia, Europe and South Asia countries. Durioo+ aims to collaborate with other local and foreign animation studios, production houses and game companies to produce more content and games.
Lapasar

Launched in 2018, the business-to-business e-commerce marketplace Lapasar focuses on the distribution of fast-moving consumer goods (FMCG) for general trade. It has served over 10,000 SMEs throughout the country through its own warehousing, distribution and financial services capabilities.
Although Lapasar transformed into a wholesale procurement platform for small retailers only in June 2020, it grew 172% year-on-year in 2021 and above 100 times since its first funding round.
The aim, Lapasar Founder and Chief Executive Officer (CEO), Thinesh Kumar said is to become the largest wholesale platform in Malaysia by 2026.
"We aim to be the go-to mobile app for retailers to source and buy their FMCG goods at consistently low prices, delivered within 48 hours for free. Lapasar is also beginning to explore lines of credits with partners for the shops which has shown early promise and will continue to expand on that as well," he said.
Paywatch

With the growing demand for earned wage access (EWA) in Asia, Paywatch has established itself as the leading EWA solution that helps employees bridge cash flow gaps between paychecks. As the only EWA solution that is partnered with top-tier banks, Paywatch also fosters financial inclusion by helping unbanked and underbanked Malaysian workers gain access to the banking system.
Paywatch is the only EWA solution of its kind in Asia and has been recognised by the UN Capital Development Fund, Bank Negara Malaysia, and Malaysia Digital Economy Corporation (MDEC) for its financial inclusion efforts. Moreover, Paywatch is the only EWA solution that has been licensed and is recognised by regulators in its operating markets. Its EWA service is being trusted and widely adopted by notable companies in Malaysia such as Lotus's, KFC, Pizza Hut, QSR Brands, Wilmar and Kenny Hills Bakers.
"Paywatch aims to promote financial inclusion by helping workers achieve financial security and gain access to major banks. Employees that feel financially empowered and safeguarded by their employers have also shown a higher retention rate, contributing to better service and lower turnover rates in organisations. We are proud of what we have achieved since our launch in 2020, and are looking forward to expanding our services and adding more benefits to the platform in order to provide more holistic financial solutions to an underserved segment," said Paywatch Co-Founder and Chief Technology Officer, Patrick Hew.
To date, Paywatch continues to grow its product offerings and strengthen its presence in existing markets Malaysia, South Korea and Hong Kong, while also accelerating expansion efforts into new Southeast Asian markets, including Indonesia and the Philippines.
pitchIN

Online investing platform pitchIN has, since its inception in 2016, raised in excess of US$65 million (RM280 million) on its equity crowdfunding (ECF) platform from over 7,600 individual investments made by retail and sophisticated investors to help fund 154 of Malaysia's fast-growing companies.
pitchIN will launch its Secondary Market and Initial Exchange Offering (IEO) platforms this year following approval from the Securities Commission Malaysia (SC) in 2022. It also received approval from SC to list Shariah-compliant campaigns on the ECF platform.
pitchIN CEO, Sam Shafie said that the company had been preparing to grow into a digital investments fintech hub with multiple offerings, noting, "We believe that IEO and the pitchIN Secondary Market will enable pitchIN to offer more fundraising options as well as add liquidity options for investors.
"That said, the upcoming Secondary Market and IEO are just the first on our roadmap. We look forward to launching even more services soon, not just in Malaysia but also regionally in countries such as Indonesia, the Philippines and Vietnam."
The Gobi SSII Fund targets early-stage (Seed, Series Pre-A and Series A) technology-enabled local startups operating in segments such as artificial intelligence, big data, cloud, e-commerce, FinTech, Internet of Things and Halal economy.
Aside from the new additions, the fund has since its launch in late 2020 invested in four other Malaysian startups namely Sunway Innovation Labs, TechNode, Speedhome and PolicyStreet.